Outer reef pontoon day trips
Quicksilver and Great Adventures both operate day trips to pontoons. These pontoons are multi-level reef activity platforms moored permanently at the Outer Great Barrier Reef in exclusive, pristine locations. They provide a spacious, stable base to enjoy a wide range of reef activities in all weather conditions. Guests get to enjoy the facilities of the (air-conditioned) vessel and platform which includes undercover seating, change rooms and freshwater showers, underwater observatory, semi-submersible, snorkelling platforms, specially designed introductory dive areas and sundecks.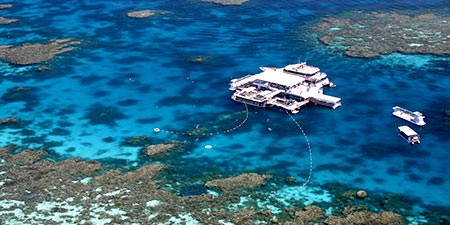 The pontoon (activity platform) provides the widest range of experiences in which to see the reef making it a great option for experienced certified divers travelling with family or non-diving companions. While the family are cruising in the semi-submersible or snorkelling (or trying an intro dive!) you can enjoy up to 2 certified dives. Scuba diving at the edge of Australia's continental shelf is simply spectacular.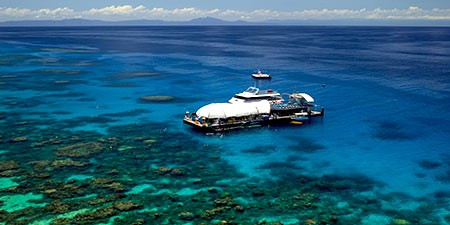 Departing from Cairns, Great Adventures takes you to a spacious multi-level reef activity platform (pontoon) situated on the outer edge of the Great Barrier Reef. With a wide range of activities, the pontoon provides a great option for experienced divers traveling with non-diving companions. Certified divers can dive directly off the platform to explore selected sites like Turtle Sanctuary, First Bommie and Secret Gardens with depths to about 16m.